November 7, 2019
Dinner with Dr. Scott Gottlieb, Former 23rd Commissioner of the FDA
By Tobias Becher, MD

Clinical Scholars and Faculty had the unique opportunity to meet Dr. Scott Gottlieb, former Commissioner of the FDA on June 26th for a dinner event. Dr. Gottlieb received his bachelor's degree in economics from Wesleyan University and his M.D. from the Icahn School of Medicine in 1999. After completing his residency in Internal Medicine at Mount Sinai Medical Center in New York, he joined the Food and Drug Administration (FDA) as senior advisor to the Commissioner and then as Director of Medical Policy Development from 2002 to 2003. He served at the FDA again from 2005 until 2007 as Deputy Commissioner for Medical and Scientific Affairs. Dr. Gottlieb then returned to the private sector as an attending at NYU Langone's Tisch Hospital. He became a partner at the venture capital firm New Enterprise Associates (NEA) and held directorships and board positions at Tolero, Daiichi Sankyo, and GlaxoSmithKline, all while still maintaining his clinical skills as an attending physician at NYU. Dr. Gottlieb received a number of awards including being ranked 6th among "The World's 50 Greatest Leaders" by Fortune magazine, one of the "50 People Transforming Healthcare in 2018" by Time magazine and the Nathan Davis Award for outstanding government service in 2018 by the American Medical Association. In October 2018, Dr. Gottlieb was elected a member of the National Academy of Medicine.
Dr. Gottlieb was appointed as the 23rd Commissioner of the FDA in May 2017 and served in this role until April 2019. During his tenure, the FDA implemented the 21st Century Cures Act (2016), improved the display of nutritional information in restaurants, opened the FDA Oncology Center, expedited the clinical trials approval process, and addressed the dangers of e-cigarette advertisements targeted toward children.
In his introduction, Dr. Gottlieb emphasized the importance of leadership and impartiality in heading an organization such as the FDA. Attendees at the dinner had the opportunity to ask Dr. Gottlieb a number of questions addressing the agency's relationship with congress, his perspectives on the future of drug pricing and the regulation of pharmaceutical development and testing. Dr. Gottlieb also discussed the reasoning behind the FDA's position on genome editing as well as how and why the agency decided to initiate and fund research on the risks of e-cigarettes.
After engaging and stimulating discussions, the evening concluded on a high note with Dr. Gottlieb and participants discussing the potential for clinician-scientists and translational researchers to contribute to several facets of the biomedical enterprise.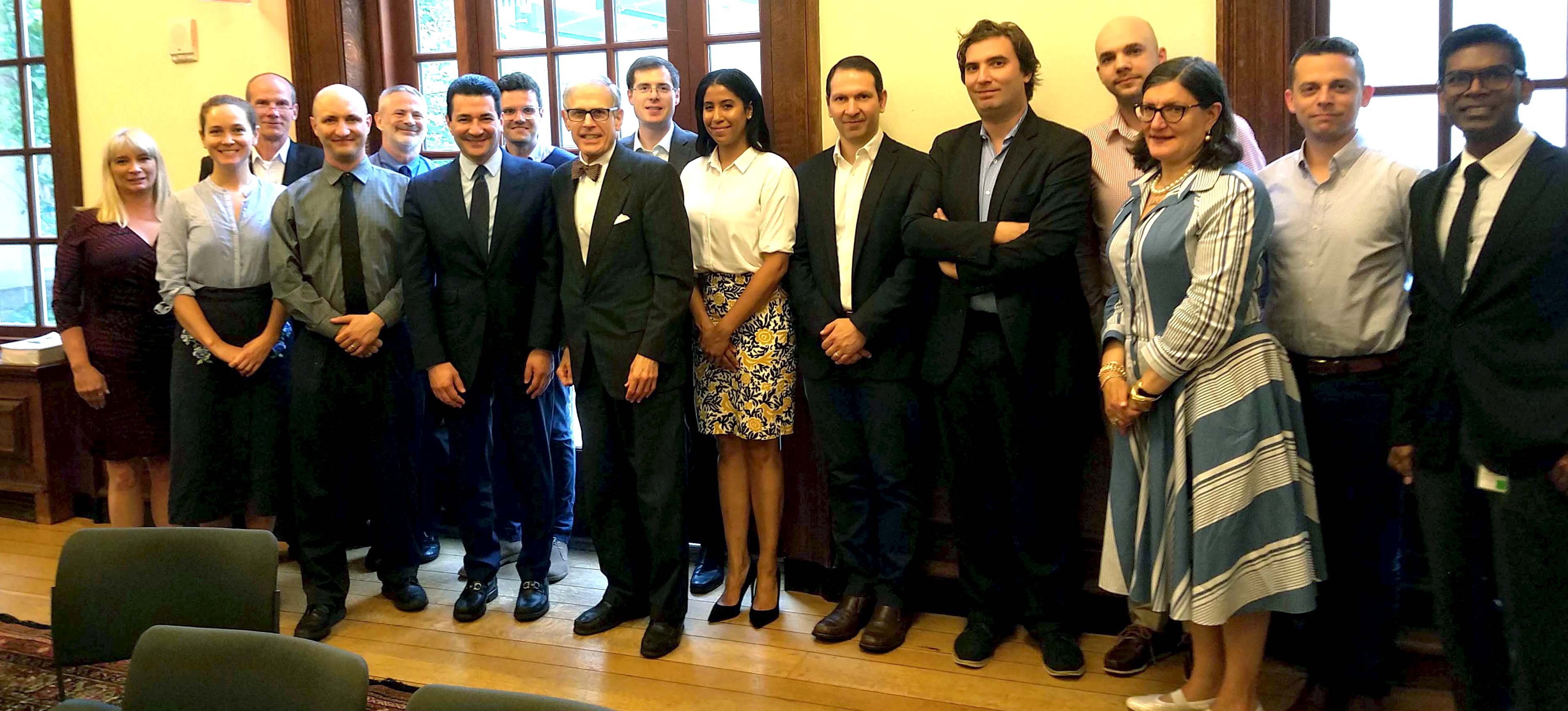 Members of the Center for Clinical and Translational Science leadership, Scholars, and Rockefeller
University Early Phase Physicians Scientists with Dr. Gottlieb