November 7, 2019
Clinical Scholars Program Celebrates New Graduates
By Editorial Staff

Nine graduating Clinical Scholars received Master of Clinical and Translational Science degrees at a dinner celebrating them and their mentors on June 6, 2019.
Dr. Chibuzo Enemchukwu Mentors: Dr. Charles Rice & Sarit Golub
Dr. Enemchukwu's research focuses on improving access and delivery of evidence-based HIV prevention services in health disparity populations. She is currently leading an NIH funded Einstein-Rockefeller-CUNY Center for AIDS Research supplement project that works in collaboration with the New York City Department of Health to examine strategies for engaging justice-involved women into HIV testing, prevention, and care services.
Dr. Enemchukwu is a Senior Research Scientist in the Hunter Alliance for Research and Translation (HART) laboratory at Hunter College; and she is a Senior Consultant at Nelu Diversified Consulting Solutions LLC., a company she co-founded that works with employers to strategize and create inclusive health and financial benefits programs that reach an increasingly diverse workforce.
Dr. Scott Drutman Mentor: Dr. Jean-Laurent Casanova
Dr. Drutman's research focused on the investigation of the genetics of susceptibilities to influenza virus, cytomegalovirus, and human papillomavirus. Dr. Drutman is Associate Director, Clinical Sciences, Oncology at Regeneron.
Dr. Jason Hawkes Mentor: Dr. James Krueger
Dr. Hawkes's research focused on the global gene expression profile and predominant signaling pathways of guttate psoriasis (a self-limited, eruptive form of the disease) versus chronic plaque psoriasis in an effort to better define the molecular biology of psoriasis and identify novel disease and therapeutic biomarkers. Dr. Hawkes is in private practice at UC Davis Health at Rocklin, California.
Dr. Moonjung Jung Mentor: Dr. Agata Smogorzewska
Dr. Jung is studying the disease modifiers in Fanconi anemia, especially endogenous metabolic by-product such as reactive aldehydes, as potentially important sources of DNA damage. Her study is expected to provide valuable insights into leukemogenesis and hematopoietic stem cell protection both in Fanconi anemia patients and in the general population. Dr. Jung is continuing her research at Rockefeller University in the Smogorzewska Laboratory.
Dr. Youngmin Lee Mentor: Dr. Thomas Tuschl
Dr. Lee's research focused on liver diseases with specific interest in the biology of fibrogenic cells and identifying determinants that impede liver regeneration. Dr. Lee is Assistant Professor in the Departments of Surgery and Medicine at Vanderbilt University.
Dr. Ching-Lan Lu Mentor: Dr. Michel Nussenzweig
Dr. Lu's research focused on the impact of HIV broadly neutralizing antibodies on the latent reservoir of HIV, with the goal of eliminating the reservoir so as to effect a true cure of the disease. Dr. Lu is a resident in Internal Medicine at New York Presbyterian Hospital/Columbia University Medical Center.
Dr. Kathrine Meyers Mentor: Dr. Martin Markowitz
Dr. Meyers's research focused on Pre-exposure prophylaxis (PrEP), a key biomedical HIV prevention strategy that can significantly reduce HIV incidence in real-world settings. Despite its demonstrable benefits, introduction and global scale-up of PrEP has been slow. The Yunnan-ADARC HIV Prevention Program will study the process of integrating PrEP into an existing health system and generate an implementation blueprint that can be used by other health systems planning to introduce PrEP to decrease the incidence of HIV in priority populations. Dr. Meyers is Social Scientist and Program Director, China Programs at the Aaron Diamond AIDS Research Center and Associate Professor of Medical Sciences in the Division of Medicine at Columbia University Medical Center.

Dr. Ethan Ravetch Mentor: Dr. Sohail Tavazoie
Dr. Ravetch's research focused on pancreatic cancer metastasis and the development of novel diagnostic biomarkers of the disease. A neuronal protein was identified that is implicated as a key driver of highly metastatic pancreatic ductal adenocarcinoma. Dr. Ravetch's analysis of this protein's downstream effects identified interaction with the MAPK signaling pathway and the transcription of hypoxia response elements. Dr. Ravetch is in the General Surgery training program at Montefiore Medical Center in New York as a third year resident.
Dr. Norihiro Yamaguchi Mentor: Dr. Sohail Tavazoie
Dr. Yamaguchi's research focuses on providing novel therapeutics targeting cancer metastasis. A key gene was identified that promotes pancreatic cancer liver metastasis and he developed a number of potentially therapeutic monoclonal antibodies targeting the protein coded by the gene. Pre-clinical experiments showed that one of the monoclonal antibodies drastically reduced pancreatic cancer liver metastasis. Dr. Yamaguchi is continuing his research to translate the discovery to clinic at Rockefeller University in the Tavazoie Laboratory.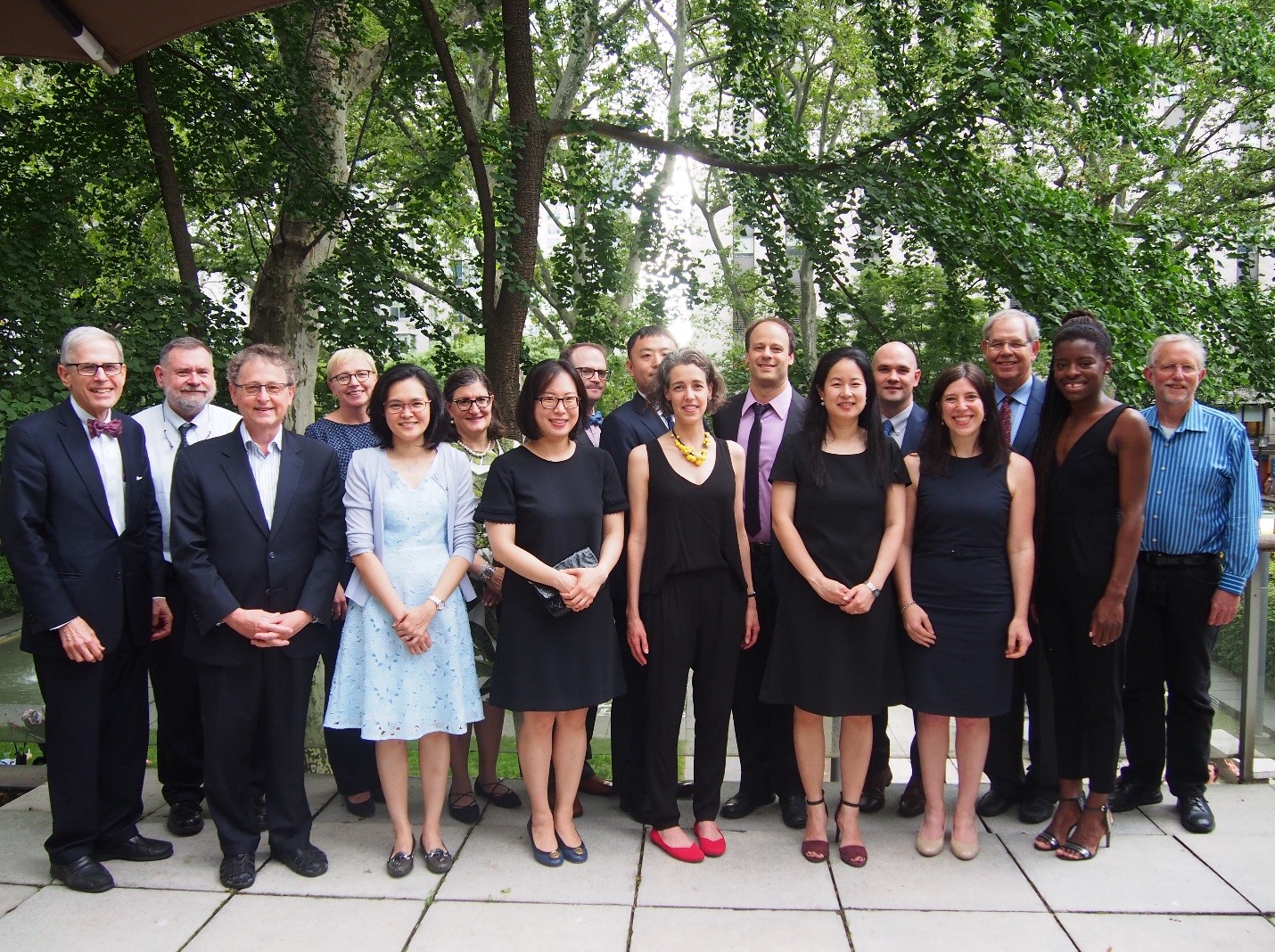 Front row: Drs. Barry Coller, Michel Nussenzweig, Ching-Lan Lu, Moonjung Jung, Kathrine Myers, Youngmin Lee, Sarit Golub, and Chibuzo Enemchukwu Back row: Drs. James Krueger, Agata Smogorzewska, Sarah Schlesinger, Ethan Ravetch, Norihiro Yamaguchi, Scott Drutman, Jason Hawkes, Scott Friedman, and Charles Rice